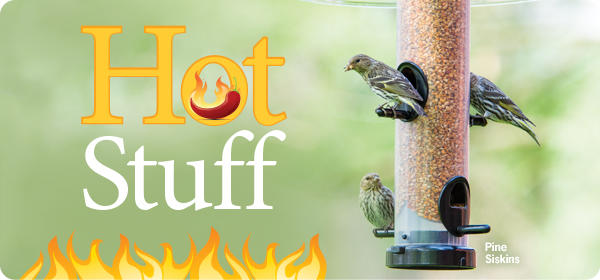 Try Our SunFire™ Chips
Feed the Birds, Not the Squirrels
You enjoy feeding your backyard birds, but sometimes those pesky squirrels and other critters can put a damper on things. That's why we offer a variety of hot pepper bird foods, including SunFire™ Chips, available exclusively at Wild Birds Unlimited. Made of shell-less seed and a hint of hot pepper, it's a no-mess way to feed the birds, while keeping the squirrels away.
15% OFF ALL Hot Pepper Products*
This means our SunFire™ Chips, Fiery Feast, Hot Pepper Bark Butter, No-Mess Hot Pepper Seed Cylinders and many more. If it says Hot Pepper it's on sale!! Over a dozen different items!!
Daily Savings Club Members: Don't forget you save 5% off sale prices.
*Valid only at Wild Birds Unlimited of Niantic. One discount per purchase. Offer not valid on previous purchases or sale items. Offer valid in-store only now thru Monday, August 12th.
Shop our store to learn how to keep the critters away from your bird feeders. And how you can attract more beautiful birds to your backyard.