Our Blends Are A Better Value!
Better Seed and Birds = Better Value
Wild Birds Unlimited is dedicated to offering fresh, top-quality seed - the best in the market.
We believe your birds shouldn't have to search through the fillers contained in most discount seed blends to find the food that they actually want. More importantly, we believe you shouldn't have to pay for the fillers.
Our no-waste seed blends are made from 100% edible seed and have been selected to meet the regional and seasonal needs of the birds in our area. That means you only pay for fresh seed that will attract the kind of birds you want to see in your backyard.
We do not include filler grains like oats, wheat and milo that decrease the price per pound of a mix, because these filler seeds are less attractive (or not attractive) to birds. Because there is no wasted seed, our blends actually end up costing less to use while attracting more of the birds that you want to watch.

Deluxe Blend... Birds Simply Love It

Our Deluxe Blend attracts a wide variety of birds. Perfect in our Classic feeder, it features oil sunflower, white millet, safflower and striped sunflower to create a multi-purpose blend that feeds birds at the feeder and on the ground.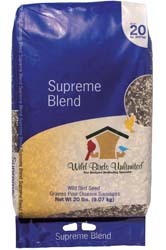 Supreme Blend... So Good, We Named It Supreme
Supreme Blend features black oil sunflower, sunflower chips, safflower and striped sunflower in a combination that helps attract a wide variety of birds, such as chickadees, nuthatches, titmice and wrens.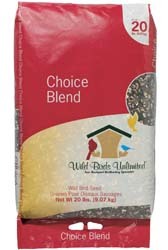 Choice Blend... Lots of Oil = Lots of Birds
Our Choice Blend is a fantastic combination of high-oil content seeds. The black oil sunflower, sunflower chips, shelled peanuts, safflower and striped sunflower do a great job of attracting a variety of birds, including chickadees, woodpeckers, titmice, nuthatches and jays. Try offering Choice Blend in a hopper feeder, seed tube feeder or our Dinner Bell™ feeder, and add loads of fun to your backyard bird watching experience.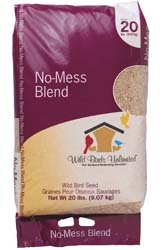 No Mess... No Fuss
No shells. No mess. 100% edible. Our No-Mess Blend is great near flower beds, patios and decks.
Our unique No-Mess Blend bird seed features seeds that have had their shells removed so only the meat of the seed is left. No hulls on the seeds makes for tidier feeding, since there's no debris on the ground to clean up. Pound for pound, our No-Mess Blend bird seed offers the best value because you do not pay for uneaten seed waste. The birds eat everything.
No-Mess Plus Blend... Calcium for Nesting Birds, No Mess for You
Compared to other blends, our No-Mess Plus Blend provides a more balanced nutritional offering at feeding stations to meet the needs of nesting birds and increase the frequency of visits to feeders. Not only does it provide much needed supplemental energy for the high demands of the nesting season, but also the added calcium is the perfect ingredient to help strengthen egg shells for nesting birds and an essential building block as baby birds grow.
Calcium is the most challenging mineral for birds because when they need it in their diet they need large quantities and they need it right away. This is mainly during nesting time for egg laying as well as chick development. The amount of calcium in their natural diet of seeds and insects is often inadequate and they must seek calcium-rich foods as a supplement. Our No-Mess Plus Blend offers them the much-needed calcium and it does it all with no shells so it is a wonderful no mess option for you.
Watch for increased evening feeder activity by female birds as they consume concentrated calcium sources to form an egg overnight to lay the next day. Also, offering No-Mess Plus Blend makes it more likely that you will see fledgling birds at their feeders later this spring as they learn to feed themselves.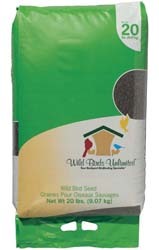 Finicky Finches Need Nyjer
Nyjer® (thistle) attracts finches of all kinds. Its high oil content is an excellent energy source for active birds and is best used in our specially designed finch feeders. It is important to keep the food fresh for our picky little eaters. Nyjer has a thin shell and is vulnerable to spoilage while in the tube. Once seed starts to dry out and become stale, finches will turn up their beak for fresher forage. Replace Nyjer seed in feeders every three to four weeks if it is not being actively eaten. Store your Nyjer in an airtight container for a longer shelf life, and buy in quantities that will be used up in a few weeks.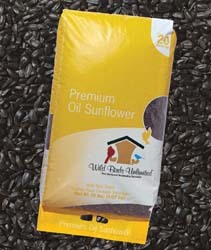 Premium Oil Sunflower... Fill 'Er Up!
A favorite of almost all seed-eating birds, your feathered friends will happily fill up on our Premium Oil Sunflower bird seed. It's a great source of energy for the birds and 99% free of sticks, stems or other foreign matter so your feeders won't clog with debris. Oil sunflower has a high calorie/ounce ratio due to its high fat and protein content and its relatively thin shell. Among seed ingredients, oil sunflower attracts the greatest variety of small and large seed-eating birds. Studies by the U.S. Fish and Wildlife Service and the Cornell Laboratory of Ornithology have shown that most birds prefer oil sunflower seeds to both striped sunflower and white proso millet. Fill your feeders with this top-grade fuel, and watch the birds flock.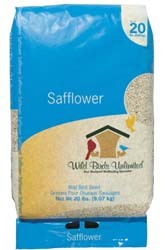 The Safflower Solution
Sunflower-eating birds love Safflower; squirrels and blackbirds typically don't.
If you are looking to be more exclusive with your bird feeding, Safflower may be the solution for you. Many of your favorite birds will enjoy safflower, yet blackbirds, grackles and squirrels typically don't. Safflower can be offered in hopper, platform or tube feeders, and it is especially helpful for window or deck feeders where blackbirds or squirrels may be a problem. Offer safflower gradually, mixing it with the seed blends you currently provide, and over time, you'll end up with a dining spot for all kinds of birds, including House Finches, woodpeckers, nuthatches and chickadees.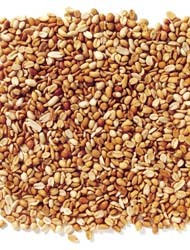 Attract Birds with Shelled Peanuts
Peanuts are the best single source of protein and fat for your birds and a great addition to the choices you offer in your yard.
Peanuts are a high-energy food, and a wide variety of birds really enjoy them. Birds such as woodpeckers, titmice, nuthatches, chickadees, jays and more will frequent peanut feeders. Many of their visits will be to carry peanuts off and cache them for a later meal. We offer a variety of bird feeders that allow the birds to pull the peanuts from the feeder, and they can cling anywhere they want.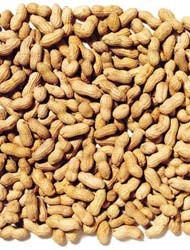 Peanuts, Get Your Peanuts
Peanuts are the best single source of protein and fat for your birds and a great addition to the choices you offer in your yard. Peanuts in the shell are typically used for feeding squirrels and some of the larger billed birds such as jays. Titmice also enjoy peanuts in the shell. Use our peanuts in the shell in your peanut feeders to provide the energy that birds need.