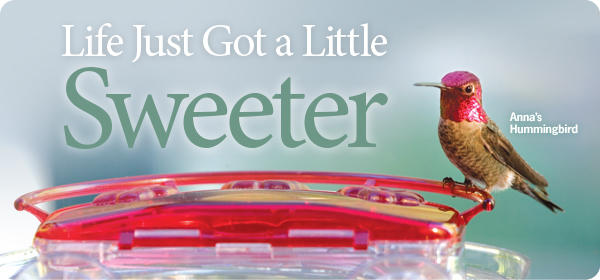 Ah, Sweet Nectar!
Hummingbirds can drink up to twice their body weight in nectar every day. After all, it takes a lot of energy to flit and flutter through nature!
With our WBU Nectar Bottle, you can create the ideal nectar solution. Simply fill the bottle with warm water, add a cup of table sugar or a box of WBU Hummingbird Nectar, replace the lid and shake until the sugar is dissolved. Use the nectar solution right away, or refrigerate it (in the bottle) until you're ready to fill your hummingbird feeders.
It's a sweet solution for you and your hummingbirds!
FREE Nectar Bottle with Purchase of Any Hummingbird Feeder*
*For DSC members only. Valid only in-store at our Niantic, CT store. One FREE Nectar Bottle per customer with purchase of any hummingbird feeder. Offer not valid on previous purchases. Offer valid now thru Friday, May 31st. While supplies last.